Lana Wall Light
Pablo Studio
Pablo
$325 - $370
Free Delivery
No Sales Tax
Price Match Guarantee
Inspired by a fusion of handcrafted and advanced manufacturing, the Lana series is designed to adapt to any space. The new collection debuts with a magnetic LED module which guarantees maximum freedom allowing the light to be attached to any ferrous surface bringing three distinct personalities: wall, table, and floor (with adjustable pedestal). Lana's LED also employs neodymium magnets allowing for effortless attachment with 360 degree rotation and unlimited height adjustment. A premium leather strap is included for easy adjustment.
Measurements, Small: W 11" X H 7", Wall Plate 5.5"
Measurements, Large: W 13" X H 10.5", Wall Plate 5.5"
Materials: Felt Shade in Arctic Blue, Stone, Charcoal, Moss and Plumb, ABS Light Module, Neodymium Magnets, Dimmer Included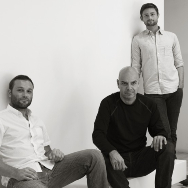 The Pablo Studio is a small group of inventors with a diverse background in industrial design and a deep understanding of manufacturing, materials and technology. When beginning a new project, the team isolates a concept, meticulously refines it, and then reduces it to its central principle. Throughout this process the designers allow themselves to discover and freely explore new ideas, but the measure of each new modification or enhancement is its conceptual necessity. The studio requires each design element to contribute to the essence of an object, following the Pablo philosophy of "less is more." Pablo Studio works together to develop products that offer people unique experiences and broaden the field of lighting design.