Brazo Task Light
Pablo Pardo
Pablo
$550
Free Delivery
No Sales Tax
Price Match Guarantee
Combining breakthrough LED technology with a uniquely tactile and calibrated light control experience, the award winning Brazo is a precise and effortlessly adjustable task lamp. A user can tune it to any beam spread, brightness and direction, controlling the volume and focus of light. The aluminum shade on the lamp's arm enables much of this adjustability, allowing the user to fluidly dial it around the light source to guide the beam in any direction. Although suitable for any environment, the versatility and 360° adjustability offered in its minimal frame makes Brazo ideal for use in work environments. Brazo transforms from table to floor model with a simple extension arm and ships flat-packed for easy transport.
Measurements: W 26" X H 14-21"
Materials: CNC machined aluminum Pyrex Glass, 360° Arm Rotation, 90° Arm Tilt, Height Adjustable, High Output LED Array Included
This product usually ships in 5 to 7 days.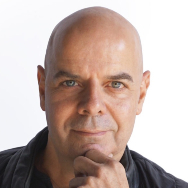 The Pablo Studio is a small group of inventors with a diverse background in industrial design and a deep understanding of manufacturing, materials and technology. They aim to foster a sense of discovery and deeply personal utility in people's interaction with objects. In beginning a new project, the team isolates a concept, meticulously refines it, and then reduces it to its central principle. Throughout this process the designers allow themselves to discover and freely explore new ideas, but the measure of each new modification or enhancement is its conceptual necessity. The studio requires each design element to contribute to the essence of an object, following the Pablo philosophy of "less is more." Pablo Studio works together to develop products that offer people unique experiences and broaden the field of lighting design.