Bel Occhio Table Light
Pablo Pardo
Pablo
$595
Free Delivery
No Sales Tax
Price Match Guarantee
Bel Occhio is a "study in weightlessness and transparency," notes designer Pablo Pardo on his inspiration for this luminaire. "It evokes nature's transformative light." His piece manifests the celestial through a hybrid design: its suspended, inner column creates focused illumination while its surrounding shell produces a transformative ambient glow. These symbiotic elements enable Bel Occhio to act as a multi-position spotlight and a source of atmospheric tenor. They also serve dynamic purposes: Bel Occhio is built as an infinitely adjustable table lamp and a suspended pendant model. Both elements serve to illuminate with comfort and fascinate the imagination.
Measurements: W 16.5" X H 16", Base 9.5"
Materials: Acrylic Sphere, Acrylic Base, Clear With White Diffuser, Clear With Orange Diffuser, White BT15 Med Base Light Included
This product usually ships in 5 to 7 days.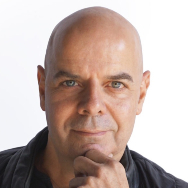 The Pablo Studio is a small group of inventors with a diverse background in industrial design and a deep understanding of manufacturing, materials and technology. They aim to foster a sense of discovery and deeply personal utility in people's interaction with objects. In beginning a new project, the team isolates a concept, meticulously refines it, and then reduces it to its central principle. Throughout this process the designers allow themselves to discover and freely explore new ideas, but the measure of each new modification or enhancement is its conceptual necessity. The studio requires each design element to contribute to the essence of an object, following the Pablo philosophy of "less is more." Pablo Studio works together to develop products that offer people unique experiences and broaden the field of lighting design.