Candél Table Light
Pablo Studio
Pablo
$195 - $665
Free Delivery
No Sales Tax
Price Match Guarantee
Inspired by a cone of light, Candél's graceful silhouette is in perfect harmony with its surroundings, allowing the natural environment to filter through. The design casts a warm, intimate, candle-like glow that's sure to seduce and become the central focus of any social gathering. Candél is a fully rechargeable portable LED light designed for both indoors and outdoors. It features a robust PMMA body in Clear or Bronze tint combined with a striking anodized aluminum light module that provides up to 4 light levels to set the perfect ambiance. Battery life ranges from 10 to 150 hours depending on light intensity. Candél's graceful proportions and scale feels right at home around dinnerware, stemware and wine vessels. It also works beautifully in harmonious groupings at restaurants, cafes and outdoor terraces. Candél' is also available as a set of 4 for 15% off.
Measurements: W 3.8" X H 10.5"
Materials: Clear Diffuser with Silver Module, or Bronze Diffuser with Brass Module, 4 Stage Dimming, USB Charging Cable Included
Usually ships in 5-7 Days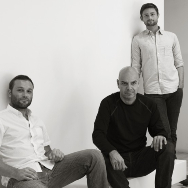 The Pablo Studio is a small group of inventors with a diverse background in industrial design and a deep understanding of manufacturing, materials and technology. When beginning a new project, the team isolates a concept, meticulously refines it, and then reduces it to its central principle. Throughout this process the designers allow themselves to discover and freely explore new ideas, but the measure of each new modification or enhancement is its conceptual necessity. The studio requires each design element to contribute to the essence of an object, following the Pablo philosophy of "less is more." Pablo Studio works together to develop products that offer people unique experiences and broaden the field of lighting design.