Uma Sound Lantern
Pablo Pardo
Pablo
$599
Free Delivery
No Sales Tax
Price Match Guarantee
The UMA Sound Lantern redefines the portable lantern for the modern age. Fusing state-of-the-art Warm Dim LED technology with 360° high fidelity surround sound, UMA provides a one of a kind portable light + sound experience. UMA pairs touch sensitive volume control with an intuitive full-range light control dial and features Bluetooth connectivity to stream audio wirelessly from any mobile device. Invoking the primal symbol of the lantern and the warmth of a campfire, UMA is the perfect centerpiece for social gatherings and intimate moments indoor and out. The Uma has been awarded the 2016 AZURE Magazine People's Choice Award, the 2016 Good Design Award Australia and the 2017 German Design Award.
Measurements: W 6" X H 11"
Materials: Polycarbonate Lens, Leather Strap, Silicone Feet, 360 Degree Sound with Bluetooth, Protective Cotton Bag With leather Cord, Dimmer Included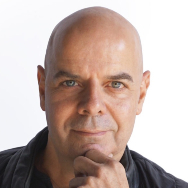 The Pablo Studio is a small group of inventors with a diverse background in industrial design and a deep understanding of manufacturing, materials and technology. They aim to foster a sense of discovery and deeply personal utility in people's interaction with objects. In beginning a new project, the team isolates a concept, meticulously refines it, and then reduces it to its central principle. Throughout this process the designers allow themselves to discover and freely explore new ideas, but the measure of each new modification or enhancement is its conceptual necessity. The studio requires each design element to contribute to the essence of an object, following the Pablo philosophy of "less is more." Pablo Studio works together to develop products that offer people unique experiences and broaden the field of lighting design.