Bola Lantern
Pablo Pardo
Pablo
$450
Free Delivery
No Sales Tax
Price Match Guarantee
Based on the Bola Sphere Table Light, the Bola Lantern adds a premium leather handle and a rechargeable battery that enables a level of portability new to the Bola Family. Bola Lantern's size and stature give a sense of presence that's unfound with portables, while maintaining the lightness associated with the floating orbs that are Bola. Discs are available in chrome, brass, gunmetal, and matte black. The leather handles are available in natural vegetable tanned leather and black. Battery life ranges from 10-400 hours depending on light intensity. Bola Lantern produces 280 Lumens of warm, ambient light.
Measurements: W 9.5" X H 13", Base 8"
Materials: Opal Glass Shade, Steel Base, Stainless Steel Reflector, Leather Handle, Battery Operated, USB Charging Cable, Full Range Dimmer, Black Strap with Gunmetal, Black Strap with Matte Black, Black Strap with Brass, Tan Strap with Chrome, Tan Strap with Brass, Constructed of 97% Recycled Material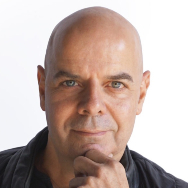 The Pablo Studio is a small group of inventors with a diverse background in industrial design and a deep understanding of manufacturing, materials and technology. They aim to foster a sense of discovery and deeply personal utility in people's interaction with objects. In beginning a new project, the team isolates a concept, meticulously refines it, and then reduces it to its central principle. Throughout this process the designers allow themselves to discover and freely explore new ideas, but the measure of each new modification or enhancement is its conceptual necessity. The studio requires each design element to contribute to the essence of an object, following the Pablo philosophy of "less is more." Pablo Studio works together to develop products that offer people unique experiences and broaden the field of lighting design.