Ghost Saber Outdoor Light
Ferdinand Verbeek
Ferrolight
$1,899 - $2,052
Free Delivery
No Sales Tax
Price Match Guarantee
Exuberantly lit with its energy-efficient LED, Ferdinand Verbeek's Ghost Saber adds contemporary elegance to any outdoor area or event space. Unseen by daylight, the base contains closely integrated nano particles that illuminate the slim, transparent pillar. Constructed of PMMA, a lightweight, technologically advanced, shatter resistant alternative to glass, the design is nearly invisible until its 4 watt LED module is activated. The Ghost Saber is hand-crafted to exacting standards at the Ferrolight studio in Hendrik-Ido-Ambacht, the Netherlands.
Measurements: H 22" X W 1.6", Base 4.7"
Measurements: H 28.7" X W 1.6", Base 4.7"
Materials: PMMA, 1 LED Module of 4 Watts, Anodized Aluminum Base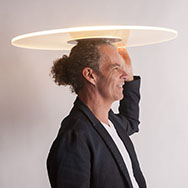 Dutch designer Ferdinand Verbeek founded Ferrolight in 1999 with a clear mission to create light objects of uncommon structural beauty and technical sophistication. All fixtures and lighting innovations are designed by Verbeek and hand-crafted in the Ferrolight studio in Hendrik-Ido-Ambacht, Netherlands. The designs are developed using light that shares the same natural warmth as sunlight. With an energy label of A + and A ++, each light is a technical masterpiece of the highest order. Every fitting is made from genuine materials such as anodized aluminum, stainless steel and wood. V4 Design Specialists is pleased to be among the select dealers promoting Ferrolight lighting products in North America.