Circa Table Light
Pablo Studio
Pablo
$550
Free Delivery
No Sales Tax
Price Match Guarantee
In designing Circa, Pablo Studio wanted to create a product that was revolutionary yet familiar. They not only created an innovative new light, but a new archetype for indoor lighting – one that blurs the boundary between the utilitarian work lamp and the more traditional shaded light. Circa's defining feature is a flat-panel LED disc that moves fluidly above its axis point. This mobility allows the lamp to assume an infinite number of positions while functioning as a task lamp that provides balanced, ambient light. Circa also supports a user's mobile devices by integrating a USB charging port on the table, floor and wall models. Circa earned the NY Now Excellence in Design Award in 2013.
Measurements: W12" X H 13.75", Base 10"
Materials: Aluminum, Polycarbonate, Flat Panel LED, 360 Degree Shade Rotation, Built in USB Port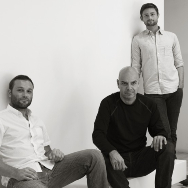 The Pablo Studio is a small group of inventors with a diverse background in industrial design and a deep understanding of manufacturing, materials and technology. When beginning a new project, the team isolates a concept, meticulously refines it, and then reduces it to its central principle. Throughout this process the designers allow themselves to discover and freely explore new ideas, but the measure of each new modification or enhancement is its conceptual necessity. The studio requires each design element to contribute to the essence of an object, following the Pablo philosophy of "less is more." Pablo Studio works together to develop products that offer people unique experiences and broaden the field of lighting design.