Link Task Lights
Pablo Pardo
Pablo
$475 - $495
Free Delivery
No Sales Tax
Price Match Guarantee
Designed by Peter Stathis in collaboration with Pablo Studio, Link modernizes the classic pantograph task light. This new articulation reduces the mechanical complexity of its 1937 referent and incorporates today's most advanced, energy efficient LED technology. While honoring the pantograph concept, its design eliminates visible springs and wires in favor of a consolidated form in which shade and handle are fused together as one. In this way, Link seamlessly balances performance and style to meet the focused lighting needs of any space. Its wide range of models includes both small and medium lamp bodies that can be fitted over table, floor, clamp, and wall-mounted base options for residential, office and hospitality settings.
Measurements, Small: W 8.5", H 34.5"
Measurements, Medium: W 8.5" X H 41.5"
Materials:Aluminum Body, Polycarbonate Lens, 360 Degree Base Rotation, Advanced LED Array, High-Low Dim Control
This product usually ships in 5 to 7 days.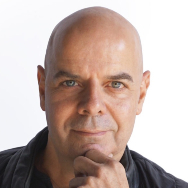 The Pablo Studio is a small group of inventors with a diverse background in industrial design and a deep understanding of manufacturing, materials and technology. They aim to foster a sense of discovery and deeply personal utility in people's interaction with objects. In beginning a new project, the team isolates a concept, meticulously refines it, and then reduces it to its central principle. Throughout this process the designers allow themselves to discover and freely explore new ideas, but the measure of each new modification or enhancement is its conceptual necessity. The studio requires each design element to contribute to the essence of an object, following the Pablo philosophy of "less is more." Pablo Studio works together to develop products that offer people unique experiences and broaden the field of lighting design.