Bola Sphere Pendant Light
Pablo Studio
Pablo
$285 - $620
Free Delivery
No Sales Tax
Price Match Guarantee
The Bola Sphere Pendant is the basic foundation for the Bola Collection, featuring an intriguing interplay between post and sphere. Concealed inside its opaline glass globe is an integrated LED COB paired with a heat sink optimized for exceptional thermal management, resulting in ultra-efficient performance that can last a lifetime. Its seductive shades are available in 6 distinct sizes - 4", 5", 6", 8", 10", and 12" paired with stainless steel posts in chrome, brass, rose gold, gunmetal and matte black finishes with mating canopies. Bola Sphere is available in exquisite Chandelier groupings that allow mixing of globe sizes for stunning displays in any residential, contract or hospitality settings alike.
Measurements: W 4" X H 4"
Measurements: W 5" X H 5"
Measurements: W 6" X H 6"
Measurements: W 8" X H 8"
Measurements: W 10" X H 10"
Measurements: W 12" X H 12"
Materials: Opal Blown Glass Shade, Stainless Steel, Built in LED, Brass, Chrome, Rose Gold, Gunmetal, or Matte Black Finishes, Dimmable
Usually ships in 5 to 7 days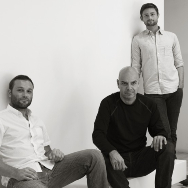 The Pablo Studio is a small group of inventors with a diverse background in industrial design and a deep understanding of manufacturing, materials and technology. When beginning a new project, the team isolates a concept, meticulously refines it, and then reduces it to its central principle. Throughout this process the designers allow themselves to discover and freely explore new ideas, but the measure of each new modification or enhancement is its conceptual necessity. The studio requires each design element to contribute to the essence of an object, following the Pablo philosophy of "less is more." Pablo Studio works together to develop products that offer people unique experiences and broaden the field of lighting design.