Pixo Plus Task Light
Pablo Pardo
Pablo
$295
Free Delivery
No Sales Tax
Price Match Guarantee
Although it embodies an emotive, humanistic form, Pixo, at it's conceptual core, is an ultra-efficient task light. Functionality and necessity drive its design and it makes the most of its frame and its space through every feature. Pixo's swiveling light shade and highly maneuverable arm provide maximum utility within a minimal footprint. Its compact, energy-saving LED is infinitely adjustable, allowing the user to focus warm, glare-free light wherever needed. For added convenience, the elegant form features full-range dimming via its easy to use optical switch. The base integrates ultra-convenient wireless charging technology + USB port for the ultimate task lighting experience. Pixo received the Red Dot Design Award in 2012.
Measurements: W 5" X H 16.5"
Materials: Aluminum Arm, Polycarbonate Shade, Steel Base Insert. Bult in LED, Colors: Azure, Silver, Yellow, Graphite, Orange, White, Brass and Black, Brass and White, USB Charging Port, Fully Dimmable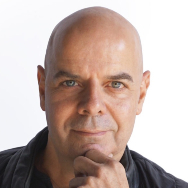 The Pablo Studio is a small group of inventors with a diverse background in industrial design and a deep understanding of manufacturing, materials and technology. They aim to foster a sense of discovery and deeply personal utility in people's interaction with objects. In beginning a new project, the team isolates a concept, meticulously refines it, and then reduces it to its central principle. Throughout this process the designers allow themselves to discover and freely explore new ideas, but the measure of each new modification or enhancement is its conceptual necessity. The studio requires each design element to contribute to the essence of an object, following the Pablo philosophy of "less is more." Pablo Studio works together to develop products that offer people unique experiences and broaden the field of lighting design.