Piccola Table Light
Pablo Pardo
Pablo
$185
Free Delivery
No Sales Tax
Price Match Guarantee
As his very first product, Piccola is the embodiment of Pablo Pardo's "less is more" design philosophy. Created as a personal utility lamp, Piccola's form is minimal, but also extremely tactile, playful, and inviting. Supple Italian glove leather covers its soft, pliable base, which a user can tilt to any angle while its aluminum shade floats to remain level. It is this malleable base that maintains Piccola's sensitivity to any position - sensitivity intended to make every articulation organic and personal. Piccola is part of the San Francisco Museum of Modern Art's permanent collection.
Measurements: W 10" X H 14"
Materials: Lambskin Base in Ivory, Purple, Black, Tomato Red, Mustard, and Orange, Aluminum Column and Shade, Dimmer Included
Usually ships in 5 to 7 days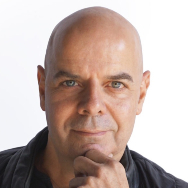 The Pablo Studio is a small group of inventors with a diverse background in industrial design and a deep understanding of manufacturing, materials and technology. They aim to foster a sense of discovery and deeply personal utility in people's interaction with objects. In beginning a new project, the team isolates a concept, meticulously refines it, and then reduces it to its central principle. Throughout this process the designers allow themselves to discover and freely explore new ideas, but the measure of each new modification or enhancement is its conceptual necessity. The studio requires each design element to contribute to the essence of an object, following the Pablo philosophy of "less is more." Pablo Studio works together to develop products that offer people unique experiences and broaden the field of lighting design.