Carousel Table Light
Pablo Pardo
Pablo
$510 - $575
Free Delivery
No Sales Tax
Price Match Guarantee
Carousel blurs the line between ambiance and utility, combining a wireless charging tray surface for mobile devices with warm, glare-free illumination. The design also features two wireless charging zones plus a USB-C charging port to accommodate a wide range of mobile devices while providing warm, indirect illumination via a flat panel LED light source. Carousel embodies a uniquely hybrid perspective that radiates mesmerizing light patterns onto the table surface below. The base diffuser is offered in both a clear and bronze tint and can be paired with a spun steel top in white, terracotta, and black finishes. The design is also available in a floor light variation.
Measurements: W 12" X H 4.3", Base 10"
Measurements: W 12" X H 6.9", Base 10"
Measurements: W 16" X H 4.3", Base 10"
Measurements: W 16" X H 6.9", Base 10"
Materials: Steel Tray in Matte White, Terracotta, or Black, Clear or Bronze Acrylic Diffuser, Flat Panel LED, Wireless Charging, 3 Stage Step Dimming, USB-C Charging Port
This product usually ships in 5 to 7 days.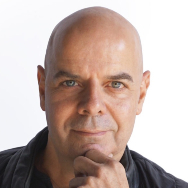 The Pablo Studio is a small group of inventors with a diverse background in industrial design and a deep understanding of manufacturing, materials and technology. They aim to foster a sense of discovery and deeply personal utility in people's interaction with objects. In beginning a new project, the team isolates a concept, meticulously refines it, and then reduces it to its central principle. Throughout this process the designers allow themselves to discover and freely explore new ideas, but the measure of each new modification or enhancement is its conceptual necessity. The studio requires each design element to contribute to the essence of an object, following the Pablo philosophy of "less is more." Pablo Studio works together to develop products that offer people unique experiences and broaden the field of lighting design.