Roset Linear Pendant Light
VanJoost
Graypants
$1,350 - $1,950
Free Delivery
No Sales Tax
Price Match Guarantee
The Graypants Roset collection has a minimalistic character that is enhanced by the use of natural materials. Conceived by the Dutch designer VanJoost, the collection is forged from iron that has then been exposed to oxygen and water. The natural oxidation process that transforms the fixture is treated by Graypants in the Netherlands to prevent further aging, effectively freezing it in time. Combining rough materials with cleanly executed design elements, the Roset collection strikes an alluring balance between rustic charm and contemporary style suitable for a wide array of commercial and residential spaces.
Measurements: W 29.5"X H 2.4"
Measurements: W 59.1"X H 2.4"
Materials: Naturally Rusted Steel, Naturally Rusted Zinc Coated Steel, Built-In LED Light, Dimmable
This product has a 2 week lead time.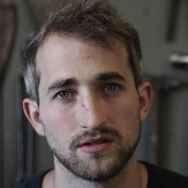 VanJoost is the label of Joost van Veldhuizen, who describes himself as a designer as well as a craftsman. His handmade collections balance between design and art. Van Veldhuizen tells stories through his creations, approaching design by basic and simple forms and pushing existing limits while doing so. His objects derive from a combination of these principles. In his work, Van Velduizen intends to "tell by creating, not by shouting." This intention is expressed in his designs by using basic forms that celebrate simplicity, as personified in his rustic Roset collection for Graypants Lighting