Nivél Pendant Light
Pablo Studio
Pablo
$550 - $750
Free Delivery
No Sales Tax
Price Match Guarantee
Redefining the future in pendant illumination, Nivél's pure and elegant silhouette features a colorful pallet of spun shade forms combined with an articulating flat panel LED light that pivots gracefully on axis to focus light downward or as a wall wash to provide seamless light control for any space. Nivél pendant can be suspended individually or in large multi-light clusters powered by a single hardwired canopy allowing the user to reposition the lights to any desired height, span and directionality. Available in 2 sizes: 15"and 22" and 6 powder coated finishes in matte white, Terracotta, Forest Green, Slate Blue, Espresso and textured black with choice of graphite or white fabric cord and ceiling canopy.
Measurements: W15" X H 1.9"
Measurements: W 22 X H 2.75"
Materials: LED Flat-Panel, 15" Steel Shade or 22" Aluminum Shade in Black, White, Terracotta, Forest Green, Slate Blue, Espresso, 360 Degree Rotation, 45 Degree Tilt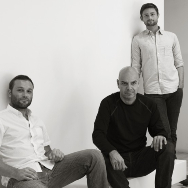 The Pablo Studio is a small group of inventors with a diverse background in industrial design and a deep understanding of manufacturing, materials and technology. When beginning a new project, the team isolates a concept, meticulously refines it, and then reduces it to its central principle. Throughout this process the designers allow themselves to discover and freely explore new ideas, but the measure of each new modification or enhancement is its conceptual necessity. The studio requires each design element to contribute to the essence of an object, following the Pablo philosophy of "less is more." Pablo Studio works together to develop products that offer people unique experiences and broaden the field of lighting design.