Bola Halo Pendant Light
Pablo Studio
Pablo
$385 - $565
Free Delivery
No Sales Tax
Price Match Guarantee
Taking its inspiration from pendant jewelry, Bola Halo is a uniquely expressive pendant light featuring a ring that balances delicately over its elegant opal glass shade while allowing its illumination to shine through. Available in 3 distinct sizes and 3 exquisitely polished stainless steel ring finishes of chrome, brass, and rose gold. Bola Halo's ring is repositionable for orienting to any desired direction. Depending on size, Bola Halo provides up to 1625 lumens of warm ambient LED light and is fully dimmable, providing unparalleled illumination. Bola can be suspended independently or as striking chandelier groupings to set the mood in residential, contract, and hospitality settings alike.
Measurements: W 12" X H 12"
Measurements: W 18" X H 18"
Measurements: W 22" X H 22"
Materials: Aluminum, Opal Glass, Stainless Steel, Chrome, Brass and Rose Gold Finishes, Built in LED, Dimmable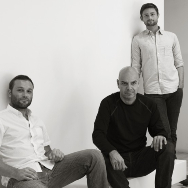 The Pablo Studio is a small group of inventors with a diverse background in industrial design and a deep understanding of manufacturing, materials and technology. When beginning a new project, the team isolates a concept, meticulously refines it, and then reduces it to its central principle. Throughout this process the designers allow themselves to discover and freely explore new ideas, but the measure of each new modification or enhancement is its conceptual necessity. The studio requires each design element to contribute to the essence of an object, following the Pablo philosophy of "less is more." Pablo Studio works together to develop products that offer people unique experiences and broaden the field of lighting design.