Bola Disc Flush Mount Light
Pablo Studio
Pablo
$425 - $1,195
Free Delivery
No Sales Tax
Price Match Guarantee
Bola Disc Flush Mount offers a magical combination of mirror and globe refined down to its bare essentials. The objective with the Bola Disc is to provide both direct and reflected light from either ceiling or wall mounted vantage points. Stunning groupings can also be created by mixing different sizes together to form unique custom light displays.
Measurements: W 12" X H 12" X D 6.2"
Measurements: W 18" X H 18" X D 6.2
Measurements: W 22" X H 22" X D 7.2"
Measurements: W 32" X H 32" X D 8.2"
Materials: Polished Stainless Steel, Opal Glass Shade, Built in LED, 12" 8 Watts, 18" 8 Watts, 22" 15 Watts, 32" 20 Watts
Usually ships in 5 to 7 days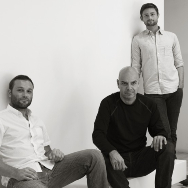 The Pablo Studio is a small group of inventors with a diverse background in industrial design and a deep understanding of manufacturing, materials and technology. When beginning a new project, the team isolates a concept, meticulously refines it, and then reduces it to its central principle. Throughout this process the designers allow themselves to discover and freely explore new ideas, but the measure of each new modification or enhancement is its conceptual necessity. The studio requires each design element to contribute to the essence of an object, following the Pablo philosophy of "less is more." Pablo Studio works together to develop products that offer people unique experiences and broaden the field of lighting design.