Sky Solo Suspension Light
Pablo Pardo
Pablo
$375
15% Off All Pablo Designs Through December 3rd - Free Shipping
Discount will be applied at checkout. All Sales Tax-Free
The Sky Collection was inspired as a modular suspension lighting system of which Sky Solo is its core foundational element. Its minimal all-aluminum design highlights a powerful two-sided flat panel light source with Dim to Warm LED technology that can deliver up to 1250 lumens of warm ambient light in all directions. Sky Solo can be suspended individually, in a series, or as striking chandelier groupings for residential, contract, and hospitality settings alike.
Measurements: W 6.5" X H 0.49". Ceiling Canopy W 5.3" X H 1.25"
Materials: Aluminum, Die-Cast Aluminum Head, Aluminum. Aluminum Head, Steel Canopy, Uplight and Downlight, Dimmable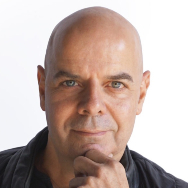 The Pablo Studio is a small group of inventors with a diverse background in industrial design and a deep understanding of manufacturing, materials and technology. They aim to foster a sense of discovery and deeply personal utility in people's interaction with objects. In beginning a new project, the team isolates a concept, meticulously refines it, and then reduces it to its central principle. Throughout this process the designers allow themselves to discover and freely explore new ideas, but the measure of each new modification or enhancement is its conceptual necessity. The studio requires each design element to contribute to the essence of an object, following the Pablo philosophy of "less is more." Pablo Studio works together to develop products that offer people unique experiences and broaden the field of lighting design.