Cortina Floor Lights
Pablo Pardo
Pablo
$525 - $795
Free Delivery
No Sales Tax
Price Match Guarantee
In conceiving Cortina, designer Pablo Pardo sought to create a light that would assert its presence but seamlessly complement a variety of environments. What he built is a stoic, sculptural luminaire that emits a seductive light through its transparent, diffused surfaces. Fluidly dimmable, the piece is comprised of a clear acrylic shade and a translucent fabric diffuser to shield its upward-facing light source. Cortina is available in both table and floor standing variations ranging in height from 24" to 72" high.
Measurements: W 10" X H 48"
Measurements: W 10" X H 60"
Measurements: W 11" X H 72"
Materials: Clear Polycarbonate, Translucent White Mesh Diffuser, Cast Iron Frame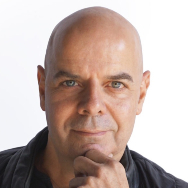 The Pablo Studio is a small group of inventors with a diverse background in industrial design and a deep understanding of manufacturing, materials and technology. They aim to foster a sense of discovery and deeply personal utility in people's interaction with objects. In beginning a new project, the team isolates a concept, meticulously refines it, and then reduces it to its central principle. Throughout this process the designers allow themselves to discover and freely explore new ideas, but the measure of each new modification or enhancement is its conceptual necessity. The studio requires each design element to contribute to the essence of an object, following the Pablo philosophy of "less is more." Pablo Studio works together to develop products that offer people unique experiences and broaden the field of lighting design.