Chrona Dish 10 Sconce
Seth Grizzle and Jonathan Junker
Graypants
$975
Free Delivery
No Sales Tax
Price Match Guarantee
Inspired by the phosphorescent envelope found around stars, Graypants Chrona lights create a luminous glow by combining thinly spun brass or stainless steel shades with a diffused acrylic diffuser. In addition to the wall sconce, Chrona is available in a variety of pendant sizes and configurations in both horizontal and vertical orientations. The sconce and pendants can be artfully positioned to create stunning light constellations for commercial and residential projects.
W 9.4" X H 9.4"
Materials: Spun Brass or Stainless Steel Shades, Built-In LED, Acrylic Diffuser, Dimmable
This product has a 2 week lead time.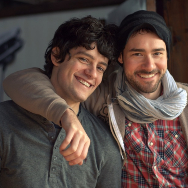 Architects Seth Grizzle and Jonathan Junker introduced their flagship line of pendant lights made entirely of repurposed corrugated cardboard in 2007. Their Scraplights quickly became a prime example of the principles that Graypants embodies to this day – responsible design, responsible materials, and responsible production. In 2012, their Amsterdam studio was founded to become a hub for local European production and distribution to over forty countries and has partnered with social works programs to provide craft-based work where needed the most. Today, Graypants continues to expand its custom portfolio, from architectural installations to public artworks, and has numerous product lines sold throughout the world. The range of their work is comprehensive, covering residential and commercial lighting, furniture, packaging designs, and architecture.