IYO Light New In Box
Ferdinand Verbeek
Ferrolight
$1,135
Please Contact Us or call 800-959-4729 for specific information on this demo design.
We have a brand new (in the box) IYO Aluminum suspension light available for immediate delivery at 50% off list price. A rare opportunity to purchase a truly exceptional, top selling Ferrolight design at a fraction of its original cost.
The IYO suspension light was designed by Ferdinand Verbeek in the Ferrolight studio in Hendrik-Ido-Ambacht in the Netherlands. Driven by his passion for the "less is more" principle, Ferdinand's popular IYO charms with its minimalist design, technical sophistication and exceptional clarity. The light's super-slim diameter, warm LED light, precision dimming capacity, and A++ energy rating make it a great choice for a wide range of commercial and residential interiors. In addition to the standard aluminum finish, the IYO can be specified in anodized purple, red, orange, gold, champagne, light blue, dark blue, green, black, bronze, titanium and three width options.
Measurements: W 5.2" X H 0.7"
Materials: Aluminum, 3 LED Modules of 8.4 Watts Each, Silver Aluminum Finish, Dimmable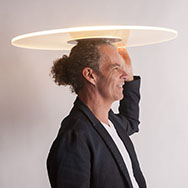 Dutch designer Ferdinand Verbeek founded Ferrolight in 1999 with a clear mission to create light objects of uncommon structural beauty and technical sophistication. All fixtures and lighting innovations are designed by Verbeek and hand-crafted in the Ferrolight studio in Hendrik-Ido-Ambacht, Netherlands. The designs are developed using light that shares the same natural warmth as sunlight. With an energy label of A + and A ++, each light is a technical masterpiece of the highest order. Every fitting is made from genuine materials such as anodized aluminum, stainless steel and wood. V4 Design Specialists is pleased to be among the select dealers promoting Ferrolight lighting products in North America.