B.E.S. Floor Light
Ferdinand Verbeek
Ferrolight
$3,800
Free Delivery
No Sales Tax
Price Match Guarantee
Ferdinand Verbeek's B.E.S.® – Beautiful Energy Saver – stands at the forefront of the new LED revolution. Superior durability, low energy consumption and a bold combination of aluminum and Wengé wood make the design particularly appealing for both commercial and residential projects. Each light can be specified in either a 5.2" or 6.6" variation with additional sizes available upon request. Please contact us directly at 302-295-3688 to discuss your specific project requirements.
Measurements: W 5.2" X H 1.4"
Measurements: W 6.6" X H 1.4"
Materials: Natural Aluminum, 8 or 10 Sequential LED Modules of 4.5 Watts Depending on Length, Dimmer Not Included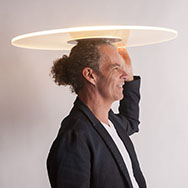 Dutch designer Ferdinand Verbeek founded Ferrolight in 1999 with a clear mission to create light objects of uncommon structural beauty and technical sophistication. All fixtures and lighting innovations are designed by Verbeek and hand-crafted in the Ferrolight studio in Hendrik-Ido-Ambacht, Netherlands. The designs are developed using light that shares the same natural warmth as sunlight. With an energy label of A + and A ++, each light is a technical masterpiece of the highest order. Every fitting is made from genuine materials such as anodized aluminum, stainless steel and wood. V4 Design Specialists is pleased to be among the select dealers promoting Ferrolight lighting products in North America.